Updated: May 2019



Online since 1999, 20 years



Champion Target (Ram-Line) has dropped the Stocks division from inventory




Limited to what is on hand!



Please refer to
www.ramlinestocks.com
for the current inventory.

The Ram-Line product line is
being changed over to the Champion Target Brand Name


The Ram-Line stocks, will have a new Champion item stock number

ATK /Vista Out Doors Owners of Ram-Line is now Champion Target's


M-F 10 am-6 pm Central Time 270-749-2109
270-749-2109

Sorry no On Line ordering, we like to talk to our customers.
(see below if you really want to order online)
To place an order. See Ordering link at bottom of page

.


But if you really want to order on line go to
Shop at Hoosier Gun Works
Some Champion and Ram-Line Products online available there under In Store


No Export sales.





Email

Ramlinegunstocks@gmail.com
Please put

RAM-LINE

in the Subject line

Phnone: 270-697-7854.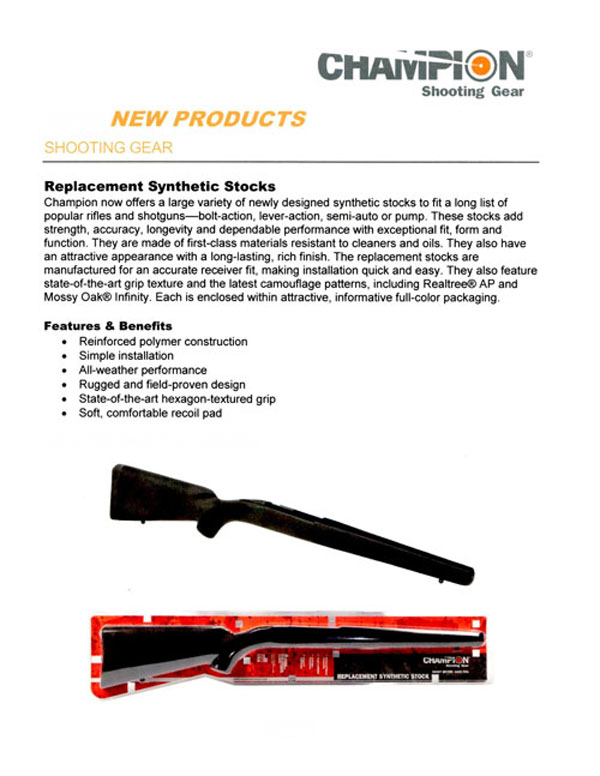 RAM-LINE ® and CHAMPION TARGET ® are DIVISONS OF OF ATK INDUSTRIES / Vista Outdoors.
RAM-LINE

Ram-Line ©, Syn-Tech ©, Wood-Tech ©, Trail-Tech ©, Shot-Tech ©, Outers Cadet © are Copyrights of ATK industries.

[ HGW Catalog | Contact / Ordering
All material and information (text and photos) provided on this web site , unless specifically noted otherwise, is copyrighted material.
Copying and/or downloading, including framing or mirroring, of any of this information for the purpose of distributing it to other
is prohibited without the specific written permission of Hoosier Gun Works

© All text and Images, Copyright 1999-2018 Hoosier Gun Works || Site created by HGW