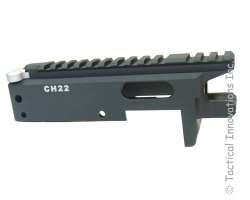 Retail $ 229.99

Now your can have the functionality and familiarity of your AR15 receiver in your Ruger 10/22 rifle with our CH22 - "Charging Handle 22" Receiver.
The receiver is precision machined to exacting tolerances from billet aluminum and incorporates a stainless steel charging handle that operates like your AR15 at a fraction of the cost.
Upgrade your reliable Ruger 10/22 rifle to the next generation of functionality!

The CH22 Receiver comes with all the parts you need to easily convert your Ruger 10/22 rifle or Ruger Charger pistol to operate as a rear charging firearm. In addition to the CH22 receiver, the following parts are included as standard:
Stainless Steel Charging Handle
Recoil Spring & Operating Rod Assembly
Tactical Innovations Recoil Buffer
Receiver Rear Barrel Cleaning Plug
Your Ruger factory parts, such as the stock, barrel, and trigger pack will quickly and easily assemble on the CH22 receiver
Copyright © 2010 Tactical Innovations Inc